The past decade has witnessed a noteworthy surge in the number of social media platforms. Initially dormant, the notions behind the mentioned platforms have been adapted by both individuals and organizations, paving the way to rewarding prospects. Over the course of time, social media platforms have been brought into vogue as showcases of personal identity, portals of promotion, and the nouveau means to not only highlight a brand's value but also aid to its development.
In the world that's for sale, the social device of LinkedIn adds a sense of fluency to the act of making connections. Whether it's a person-to-person or business-to-business relationship, LinkedIn aids both, thereby being an influence market-tool of the ambitious strategists. The functioning of any social media platform casts mammoth dependence on its algorithm – a social platform nesting online can neither be stabilized nor stagnant, it's forever evolving- hence the case stands true for LinkedIn too. At the moment too, programmers sitting in Sunnyvale, California are putting in their best efforts to make LinkedIn adapt to the necessities of the thriving generation. However, this shape-shifting algorithm can moonlight as a boon for some, but bane for others.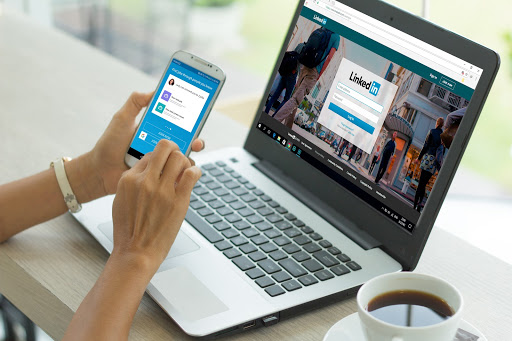 Often, the LinkedIn algorithm camouflages, with one not being able to interpret the best of it. According to the analysed data of the past two years, updates in the LinkedIn algorithm have witnessed a 50% increase in viral activity that comprises of two million posts, videos, and articles – that have been filtered to cater to the needs of the LinkedIn family of 645+ million members.
In order to harness a much clearer insight, let's take into consideration how LinkedIn works:
The Working
At the present moment, the LinkedIn algorithm revolves around forming personal connections on the basis of common interest. It sounds pretty basic, doesn't it? In doing so, the algorithm fulfils two primary purposes: One, it prioritizes relevant content and two, it catalyses engagement. By default, LinkedIn tends to filter its post on the basis of their relevant status than recent status. Also, LinkedIn unlike other social platforms doesn't bank on virality, but rather shows its members' post from people whom they actually know. This leads to better interaction, more content creation, and manages to generate ample engagement. So, what exactly are the driving forces behind LinkedIn's new algorithm?
Personal Connections

– Who you know, rather than who you should know.

Interest Relevance – The more common the interest, the more affinity for acquaintance.

Engagement Probability – The type of content you interact with more frequently will pop up more often.
The name of the game is scanning the horizon and expanding the scope of possibilities. For the believers, the dreamers, and the doers, the constraints of the LinkedIn algorithm are nothing less than a challenge – something they have to beat in order to venture beyond. The more beyond you tread, the more stand your chances to indulge with rewarding as well as lasting connections. Here are a few tips to make the best out of the existing LinkedIn algorithm:
Relevancy is the Key
Be relevant – for relevancy from your end make people realize that you are in charge of your vocation and that you know what you are talking about. This induces a sense of belief for you in them – and with the time you realize that instead of you approaching others, it's the others approaching you. To turn the tables in the mentioned fashion, you have to know your content, your target audience, and your strategy. Once the framework of the plan is clear in your head, nobody can stop you from getting a head start.
Niche Will Sell
The difference between an amateur and a professional is vocal via the following fact: An amateur will opt for what's sells – he/she shall venture into the broad spectrum of the marketplace where everything around is for sale, make a choice that's bound to reap profits, and then, it will be all over. A professional is well-recognised by the habit of always taking a peek in the future before making a decision. Such a person, calculates and opts for the niche that shall dominate the marketplace in the future, works on it and makes a fortune out of it – in other words, a professional is adaptable. Hence, on LinkedIn too, in order to catch the attention of the people who aim to revolutionize the world, your content should be well defined with respect to choices that are niche and futurist.
Potential lies in Strategy
In a world as competitive as the one we live in, strategy is everything. Well planned moves when implemented on a well-measured path, paves way for a healthy and active network on LinkedIn that's exponentially growing and rewarding. Here's all that you can engage in, to reap the best out of your LinkedIn profile:
Keep updating your personal profile and page with time.

Always stay connected with people you know or wish to see updates from.

Promote your company's name along with your corporate hashtag.

Follow others in order to attract followers.

Participate in LinkedIn Groups or play host to your own.

Give and receive recommendations.

Discover opportunities and let others discover you with a public profile.

Participate in conversations in order to be active on the network.

Promote your LinkedIn pages on your website and on other social media platforms. Always keep the vibe of what you are doing, alive.

A LinkedIn Showcase page – go for it to elevate your LinkedIn experience.
For instance, for a digital marketing agency that's trying to magnify its performance marketing services in the eyes of the populous, other aspects of LinkedIn of the likes of LinkedIn analytics, posting at the right time in order to garner ample engagement, and paid promotion of relevant posts come in handy. With tens of thousands of posts going live on LinkedIn every moment, let's pledge to channel all features of LinkedIn in manners that aid our progress in an optimum fashion.