The use of visual content on social media has come to play an important role in the online marketing tactics employed by companies today.  In addition to the fact that images are more persuasive than any textual content, the extensive use of smartphones makes it easier to create and share such content across various social media sites. However, the widespread use of such content has made it necessary for marketing professionals to focus on creating highly engaging visual content for the social media pages of their clients. Discussed below are 12 effective tips that can prove beneficial in this respect.
Know Your Audience
Different people prefer different types of visual content across individual social media platforms. Hence, it is important for professionals providing content marketing services to gain a better understanding of the audiences they are creating the visual content for.
Build A Narrative
Most people tend to easily connect with visual content that is presented in story form. Building a narrative can lend greater credibility to the content besides making it more interesting and relevant for the target audiences.
Use High-Quality Visuals
Even the most well-thought-of visual content can fail to attract user attention and drive audience engagement if the quality of visuals is poor. Whether it is the images, graphics or even videos, marketing professionals need to ensure the use of only the best quality visuals. For instance, you can take inspiration from the high-quality shoot images posted by Levis:
Consider Popular Trends
When creating visual content for social media, it is important to keep the current popular trends in mind. These trends are generally indicative of the type of content that social media users find interesting and engaging and hence are likely to provide better results.
Learn About Image Copyright
Content marketers should make sure that they understand the rules governing image copyright while sourcing images and other visual content. Using visuals protected under the Copyright Act can have serious consequences besides damaging the credibility and goodwill of the brand. Credits should be given as illustrated below: 
Use The Right Specifications
Posting inappropriately sized visual content can reduce the overall audience engagement levels considerably. Using visuals with the right aspect ratio and high resolution makes the content visually appealing and engaging for the audience.
Include The Right Hashtags
Hashtags play an important role in helping social media users find relevant content. That is why including the right hashtags in visual content is highly recommended to increase overall audience engagement rates for the brand.
Be Creative With The Text
Almost every video content includes some text and presenting it in a creative and appealing manner can help enhance user engagement in a significant manner. Making the text bold, legible, concise, and straightforward adds to the appeal of the visual content rather than obscuring it. Take a look at Swiggy: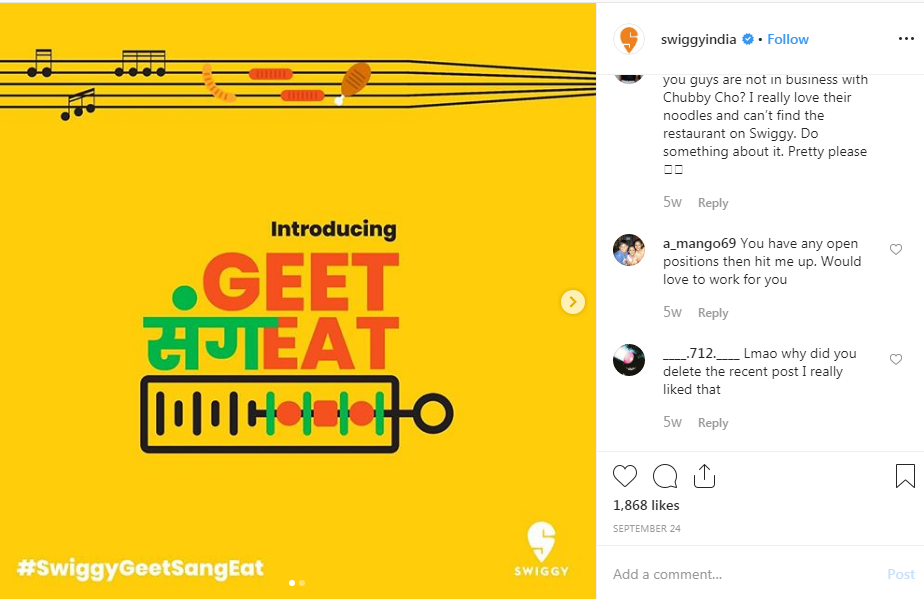 Combine Different Types Of Visuals
Mixing different types of visuals can help in creating highly engaging and interesting visual content. These may include images, GIFs, animation and even infographics. However, care should be taken to combine only the most relevant and compatible visuals.
Insert A Bit Of Humor
Bland and serious visual content that simply presents facts in an uninteresting manner often fails to attract user attention. By choosing to add a bit of humour to the content, businesses can build a close bond with their customers. Zomato does this beautifully:
Invest In Real-Time Content
Sharing live images and videos is an effective content marketing strategy that can help businesses to enhance user engagement significantly. However, it is important to ensure that any such content is relevant to the needs and interests of the target audience.
Create Platform Appropriate Content
It is important for content marketers to understand that every content may not be suitable for every social media platform. As such they should conduct thorough research to learn about the content that is most suitable for each platform for ensuring better user engagement.